Global and Local Articulations of the Discourses on Indigeneity: The Transnational San Social Movement and the Peoples of the Central Kalahari Game Reserve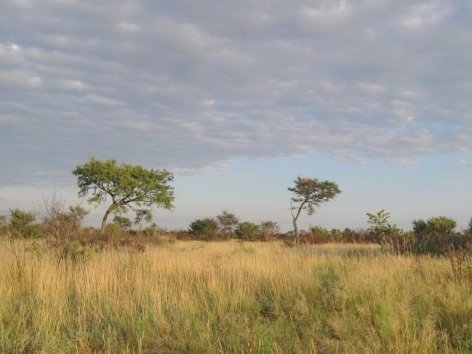 Central Kalahari Landscape
Central Kalahari Landscape
© Maria Sapignoli
© Maria Sapignoli
Maria Sapignoli's fieldwork in the last seven years has mainly been in southern Africa (Botswana) and at the United Nations meetings on indigenous peoples' rights. It ranges from the global (UN) and the regional (Sub-Saharan Africa) to the national (Botswana High Court and Government offices) and local (the Central Kalahari Game Reserve and rural communities). Her main fieldwork, which can be termed 'multi-nodal ethnography', is multi-sited (Hodgson 2012, Marcus 1995). The method of research is comprehensively multidisciplinary and effectively polyphonic, utilizing a spread of closely interacting approaches including participant observation, interviews of individuals, life histories, and textual analysis.
The project addresses indigenous peoples' rights and identity formation in Southern Africa and the ways that local people are affected by, and have impacts on, institutions such as the United Nations Permanent Forum on Indigenous Issues (UNPFII). Sapignoli follows the work of the African Commission on Human and Peoples' Rights (ACHPR) and the Universal Periodic Review (UPR) of the Human Rights Council and the UN Expert Mechanism on Indigenous Peoples, and the development, refinement, and implementation of documents, policies, and law on indigenous peoples' rights.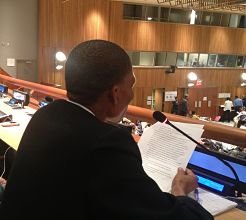 Statement at the United Nations Permanent Forum on Indigenous Issues (UNPFII)
Statement at the United Nations Permanent Forum on Indigenous Issues (UNPFII)
© Maria Sapignoli
© Maria Sapignoli
She is also examining the social movements aimed at promoting indigenous and minority rights (e.g. San movements, African indigenous movements, and Global indigenous movements). A key dimension of this project involves the use of social media by indigenous youth and the significance of the networks this facilitates. The work is part of an ethnography of globalised processes and the ways in which international institutions are in a dialectic with local groups who articulate their identities and requests at different levels and scales.
Sapignoli considers also how indigeneity in Botswana shapes the relationships among groups, individuals, and between groups and the state, law, and institutions; and how global concepts of rights, justice, and equality are experienced and shaped in practice by those who see themselves as the subject of rights (San and other minorities) and by those that either accept or deny such rights (southern African states and transnational corporations).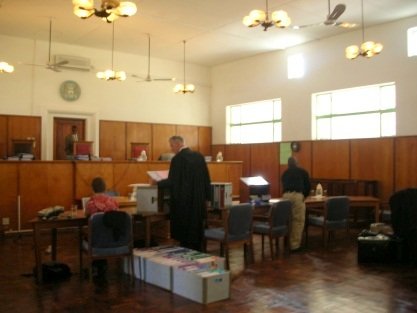 High Court Botswana (2006)
High Court Botswana (2006)
© Maria Sapignoli
© Maria Sapignoli
In the case of the communities in Central Kalahari, a set of legal cases involving the people of the Central Kalahari Game Reserve is examined. Sapignoli is also exploring how people practice, transform, and translate concepts and notions of rights, land, identity, care, subsistence, and social justice and how these are affected by their relationships with NGOs, other groups, the state, and international community, particularly after winning two High Court cases and returning to their territories inside the Reserve. Finally, she considers the pluralities of legal orders present in the Central Kalahari Game Reserve and how they are embodied, shaped and adopted by the different social actors involved. The case of Botswana is compared with others similar cases in Africa (especially those in Namibia, including Etosha National Park).



Keywords: Indigeneity, San, Bakgalagadi, Botswana, NGOs, Law, United Nations, Leadership, Resistance, Identity, Indigenous movements, Globalization, Indigenous Peoples' Rights, Nodal Ethnography.