Soziale Sicherheit und Verwandtschaft in China und Vietnam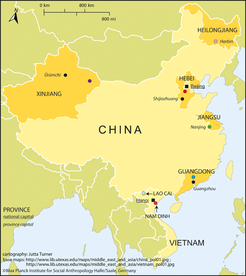 In recent decades, China and Vietnam have been undergoing profound social, cultural, economic, and political transformations following the demise of classical state socialism. Rapid economic liberalisation has meant greater opportunities for wealth generation, but also enormous uncertainties. The nature of social support, i.e. how people rely on different resources and institutions to secure well-being, has also experienced major changes. The state remains a major actor in the provision of social security, but the market plays a stronger role than previously, even in sectors such as health and education. People continue to mobilize kin and to employ a wide range of strategies to deal with existential vulnerabilities and limits, but there are new ideological tendencies favouring individual freedom at the expense of sacrificing security. At the same time, new risks and forms of inequality have emerged in the context of shifting power relations between individuals and social groups, between state and society, between local realities and translocal geographies.
In this research group, we explore these changes by looking at how social actors forge alliances, negotiate uncertainties, and through these practices, create and recreate visions of care, intimacy, security, mutual support, moral responsibility, fairness, and civility. Building on previous projects in this Focus Group, we emphasize the semantic openness of the concept of 'social support', and underline the multi-dimensionality of social support relations and their historical and socio-cultural embeddedness. Our research focuses on a wide range of support networks, practices of care and charity, and social mobility strategies at various rural and urban locations in China and Vietnam. In contrast to top-down approaches focusing on the national and international levels, we adopt methodologies that emphasize extended ethnographic field research and draw particular attention to questions of individual subjectivity and local specificity. Our approach gives priority to everyday life practices, ideas, and modes of securing help and coping with insecurity.


Meixuan Chen
A study of lineage, migration and social support in South China


Kirsten Endres
Cultivating Quan He: Social relations, support networks and sentiments in the Vietnamese marketplace


Saheira Haliel
Networks of Support in the Xinjiang Production and Construction Corps


Chris Hann and Ildikó Bellér-Hann
Feudalism, socialism and the present mixed economy in rural Eastern Xinjiang


Xiaoqian Liu
State Support to the Elderly and Ancestors in Contemporary China


Minh Nguyen
Care and migration in Northern Vietnam: migrant family strategies, gender relations, and intergenerational exchanges


Gonçalo Santos
Charitable giving and technologies of virtue in rural South China


Sarah Schefold
Unemployment and Social Support in East Germany and Northern China


Markus Schlecker
Support's Composite Nature


Ruijing Wang
Social Support and childcare on the Chinese periphery: The case of the Akha of southwestern China


Wu Xiujie
In search of social support beyond kinship: fairness and civility in rural North China


Roberta Zavoretti
Marriage and social mobility in post-Mao urban China



See previous projects of this group.