Petra Burai
Research Interests
Legal anthropology, law and society, legal pluralism, human rights, public policy, governance and bureaucracy
Research Area(s)
Europe (particularly Hungary), USA


Profile
Petra Burai holds a JD from the Faculty of Law at Eötvös Loránd University, received an LLM in Human Rights from the Central European University in 2004, and in 2008 earned an MSc in Public Policy from the University of Bristol (UK), where she was an FCO Chevening Scholar. She gained international professional experience as an intern at the Human Rights Directorate of the Council of Europe in Strasbourg. From 2004 to 2006 Burai worked at the Hungarian Ministry of Education and taught in the Department of Administrative Law within the Faculty of Law at Eötvös Loránd University. In 2006-2007 she worked at the German Federal Ministry of Interior and at the Berlin State Centre for Political Education as a fellow of the Robert Bosch Stiftung. From 2009 to 2010 Burai worked as an auditor at the State Audit Office of Hungary in the field of anti-corruption policies and organizational development. In 2011 she was a fellow in the US State Department's International Leadership Program (IVLP). She joined Transparency International Hungary in 2010 as the head of legal affairs, where she led projects promoting integrity within the public sector, and then continued as director of research. She is the author and editor of several volumes and publications about human rights, anti-corruption policies, lobbying, whistleblowing and organizational ethics. She is currently a doctoral candidate in the Faculty of Law, Eötvös Loránd University.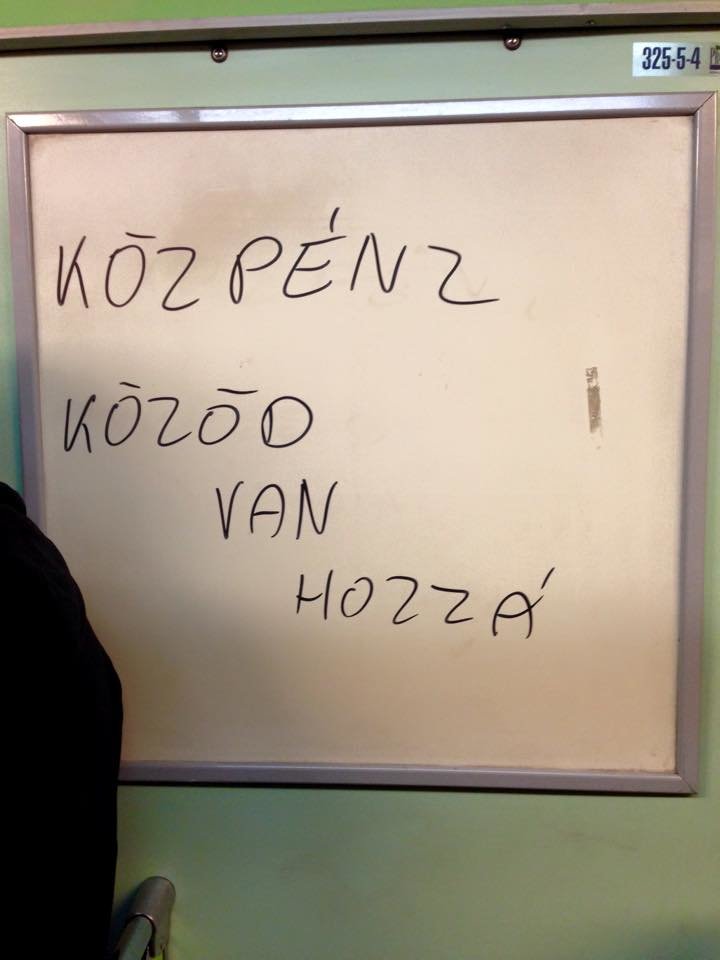 The graffiti reads Közpénz. Közöd van hozzá ('Public money: It's your business'). Photo taken on Metro Line 3 in Budapest on 14 January 2015.
[less]
The graffiti reads Közpénz. Közöd van hozzá ('Public money: It's your business'). Photo taken on Metro Line 3 in Budapest on 14 January 2015.
© Petra Burai
© Petra Burai
Burai's current research examines the impact and limitations of anti-corruption regulations at the international, national and personal levels, as well as their influence on the implementation of human rights. Corruption denotes conflicting moral attitudes and interests. It also implies the failure of the rule of law and, consequently, of the implementation of human rights, and thereby entrenches and deepens inequality within societies. Consequently, anti-corruption regulations are becoming more diverse and stern, but legal practice and anthropological studies have shown that even carefully planned policies and legislation become ineffective or even counterproductive if decision makers disregard social reality and the diversity of norms that inform everyday life. While much is known about how laws and policies are created, there is significantly less academic and political interest in the success or failure of their implementation. In her research Burai examines how social and legal norms, power relations and arguments about financial benefits mutually influence one another as well as the social perception and efficiency of anti-corruption regulations in general.
In addition to the legal analysis of the relations between international anti-corruption policies and the relevant case-law of human rights tribunals, Burai pays particular attention to the social, legal, political, economic and cultural changes in Hungary that concern core values and norms, their impact on the implementation of fundamental rights, and the legal responses to corruption. In the empirical part of the research she sets out to examine the 'anthropology of corruption and law' through the lives of elderly Hungarian people and their experiences connected to corruption in the health-care and education systems, as well as their attitudes to the relevant legal regulations and the authorities concerned. The in-depth interviews encompass the lives of the research participants and their personal strategies for coping, thus paint a unique picture of several decades of political and legal history at the same time.


Why Law & Anthropology?
"Social justice and human rights are cultural constructions reflecting human diversity; hence, they are constantly subject to redefinition. The social and legal perception of corruption also depends on cultural attributes, as well as historic, social and economic conditions that shift over time and place. Only interdisciplinary research is capable of highlighting the processes that influence social patterns and lawmaking. Legal anthropology provides concrete and innovative lessons regarding the law's influence on society, and conversely, the social impact on the implementation of law. Turning these lessons into practice is one step towards establishing much more effective legal and policy frameworks."