The Department
Established in March 2012, the 'Law & Anthropology' Department's point of departure is the observation that values and norms today are circulating ever more vigorously among diverse societies and cultures. With this intensification of exchanges and encounters comes an increasing demand for translation between different legal orders at various levels of decision making all over the world. This demand engages, among others, the disciplines of social anthropology and law. It requires them not only to confront their own serious epistemological and conceptual constraints, each from its own perspective, but also to examine the extent to which scholars of the disciplines in question can and should take responsibility for the impact and the effects these translations may have in practice. Read more
Current Research Groups
The Bureaucratization of Islam and its Socio-Legal Dimensions in Southeast Asia
The group investigates Muslim discourses in the context of state power in Southeast Asia and theorizes the 'bureaucratization of Islam' as a socio-legal phenomenon. It ethnographically explores the production of the state's 'classificatory power' through Islam-bureaucratic agencies and other actors interacting with (and thereby constructing) the state in multiple ways. Arguing that the bureaucratization of Islam transcends its organizational boundaries, the project also asks how religiously framed national truth politics resonate with social transformation processes and related subject formations.
---
The Challenges of Migration, Integration and Exclusion

In the recent debates on migration to Europe, and Germany in particular, researchers as well as policy makers have placed a great deal of emphasis on pathways to successful integration of immigrants and asylum-seekers. This project, on the other hand, aims to increase our understanding of the mechanisms and dynamics which exclude migrants to varying degrees from certain spheres of social life. Key to this project is the recognition that exclusion and inclusion are continuous processes rather than mutually exclusive end results.
News from the Department
Cooperation with the Centre for Asian Legal Studies in Singapore 
The Department 'Law & Anthropology' has established a Memorandum of Understanding with the Centre for Asian Legal Studies (CALS), National University of Singapore, to realize plans for cooperation in the area of interdisciplinary socio-legal studies, particularly in the field of law and religious diversity in Asia and Europe.
---
The long path to becoming part of society: six Max Planck Institutes explore social and legal exclusion as a result of migration
Social scientists have long been interested in the subject of social integration and inclusion. However, there has been much less attention given to the ways that legal provisions, social behaviours, and economic conditions can lead to exclusion.
---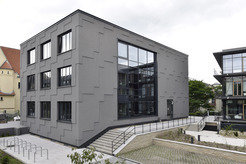 © MPI for Social Anthropology, Photo: Thomas Meinicke
© MPI for Social Anthropology, Photo: Thomas Meinicke
June 09, 2017
The tape-cutting ceremony for the Max Planck Institute for Social Anthropology's new building at Advokatenweg 36 will take place on Thursday, 15 June 2017. The ceremony will begin at 4:30 p.m. and will conclude with an inauguration party starting at 6:45 p.m., to which the institute's neighbours were also invited.
---
Petra Burai receives Pro Dissertatione Iuridica Excellentissima Award
Petra Burai (Department 'Law & Anthropology') has received the Pro Dissertatione Iuridica Excellentissima Award from the Hungarian Academy of Sciences' Institute for Legal Studies.
Interview with Marie-Claire Foblets on the occasion of the awarding of the Honorary Doctorate by the Facultés Universitaires Saint-Louis, Brussels (Le Soir, 29 September 2016)
---
Projects (Selection)
For more information on the researchers of the Department and their projects please click here.
---