Freundschaft und Verwandtschaft. Zur Unterscheidung und Verflechtung zweier Beziehungssysteme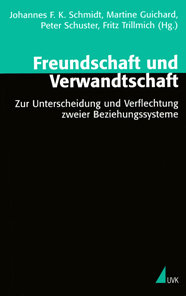 Author
Johannes F. K. Schmidt, Martine Guichard, Peter Schuster, Fritz Trillmich (Hrsg.)

Publisher
Konstanz: UVK

Year of publication
2007

ISBN
978-3-86764-016-9

OPAC

Abstract
Es wird of behauptet, dass in der komplexen und flexiblen Gesellschaft des 21. Jahrhunderts Freundschaft die eigentlich angemessene und moderne Form persönlicher Beziehungen darstelle, während verwandtschaftliche Beziehungen durch einen gesellschaftlichen Bedeutungsverlust gekennzeichnet seien. Das Verhältnis von Freundschaft und Verwandtschaft ist aber bei weitem nicht so eindeutig, vielmehr weisen beide Beziehungstypen vielerlei Berührungspunkte und Überschneidungen auf. Dies wird insbesondere dann deutlich, wenn man sich dem Verhältnis von Freundschaft und Verwandtschaft aus unterschiedlichen Perspektiven nähert, wie es der vorliegende Band unternimmt, der Beiträge aus Soziologie, Psychologie, Geschichtswissenschaft, Ethnologie und Verhaltensbiologie zusammenführt.