EZProxy - Remote access to e-resources of the library
EZproxy provides authenticated access to licensed electronic resources (databases, digital collections) provided by the MPI library from outside the Institute.
Please sign in with the same username and password you use to login on your computer at the institute.
Please click here to login or use the following url:
https://ezproxy.eth.mpg.de

On the EZproxy main page you will find the most important resources listed as entry points.
Use the search box or alphabetical list to access all licensed electronic resources where remote access is allowed.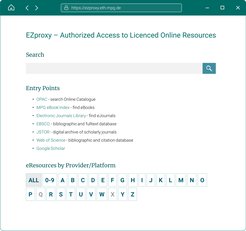 In case you have any questions, please contact library@eth.mpg.de