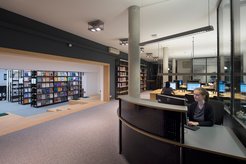 Collection
The library is specialized in providing literature and electronic media in the field of social anthropology with a close focus on the Institute's research on "Law & Anthropology", "Resilience and Transformation in Eurasia", "Anthropology of Politics and Governance" and "Integration and Conflict". General works from related disciplines, such as sociology, law, history, economics, political science, psychology and philosophy are also available. The collection reflects the broad interdisciplinary approach of research carried out at the Institute.
The library holdings currently comprise about 50,500 monographs, 700 videos, 200 subscribed journals and 5,550 journal volumes (February 2022), increasing by about 1,500 media units annually.
Opening Hours and Access
The collection is available to all researchers and students of anthropology and related disciplines but it serves primarily to the institute's scientific staff. For external users the library is a reference library during the opening hours given below. They have the option of copying relevant material (0,15 Euro/copy). Please register in our guest list and regard our Library regulations for further details.
Mon until Thu 9-12 AM, 1-4 PM, Fri 9-12 AM
!! Due to precautionary measures to contain the spreading of the COVID-19 virus the library will remain closed for external users until further notice.