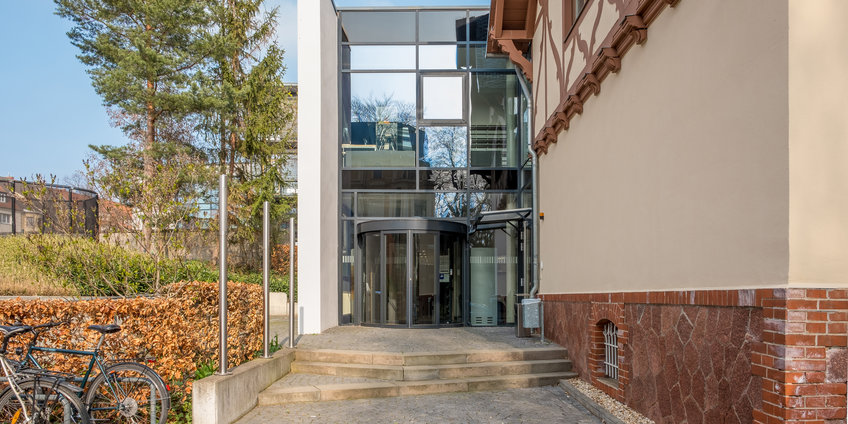 Location
Address
Max Planck Institute for Social Anthropology
Advokatenweg 36
06114 Halle (Saale)
Telefon: +49 (0) 345 2927 0
Travel Directions

By Train

Leave the main station Halle/Saale by the main exit and keep left. Go into the pedestrian passageway tunnel where the tram stops are located. Take tram Number 7 (destination: Kröllwitz) to the stop "Landesmuseum für Vorgeschichte". The trip takes roughly 15 minutes; trams run every 15 minutes.
After leaving the tram walk back a few metres and turn right at the Museum for Prehistory on your right, with a small green park area (Rosa Luxemburg Platz) then on your left. Walk down Ernestusstrasse until you reach Advokatenweg. Turn left and after a few metres you will reach the entrance to the Institute.


By Air

Trains from the Airport Leipzig/Halle to Halle/Saale Hauptbahnhof leave every hour. The trip takes roughly 15 minutes.


By Car

From Berlin or Munich take the A9 to Halle.
From Magdeburg or Dresden take the A14 to Halle.
If arriving on the Autobahn A9, exit at Junction 13, marked Halle/Saale, then follow the B100. After crossing the Autobahn A14 at Junction 11, marked "Halle/Peißen" (leave the A 14 here if coming from Magdeburg or Dresden), stay on the B100 (which becomes Berliner Strasse and then Berliner Chaussee). At the end of the B100, turn left into the Dessauer Strasse but stay in the right lane. Exit right twice to get to the (B6), marked "Magdeburg/Trotha". The next exit will take you onto Wolfensteinstrasse. Two lights and it becomes the Grosse Brunnenstrasse. Make a left turn at the next crossing and you will be on Richard-Wagner-Strasse. On your right you will see the Museum for Prehistory, turn right in front of it and drive straight into the Ernestusstrasse. The next left will be the Advokatenweg. The Institute is immediately on your left side.