Legal Pluralism in Malawi. Historical Development 1858 – 1970 and emerging issues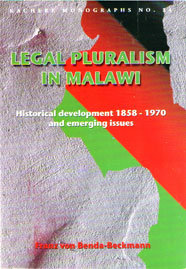 Author
Franz von Benda-Beckmann

Publisher
Zomba: Kachere Series

Year of publication
2007

ISBN
99908-81-11-6

OPAC

Abstract
This book is a pioneering study on how various systems of law coexist and interface in a developing country like Malawi. Prof. Franz von Benda-Beckmann's research on "Legal pluralism in Malawi" dates back to the late 1960s and yet, in the year 2007, it has not lost its significance. With the systems and institutions of the former legal systems in place, the vast majority of Malawians (and Africans in other parts of the continent) continue to use non-formal systems of conflict resolution and local laws, even if these may have been influenced by their incorporation into the state system. The "Malawi Growth and Development Strategy", officially launched by the State President as Malawi's policy framework for the years 2006-2011, recognizes this fact and asks for "improving civil dispute settlement mechanisms" and "developing an informal legal system that is accessible, efficient, and equitable". This volume serves as a resource book for academic researchers and for development practitioners alike who seek to improve the access to justice especially for the rural population in Malawi.