An Eritrean Village Reacts to Land Reform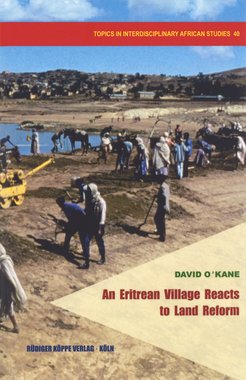 Author
David O'Kane

Publisher
Köln: Rüdiger Köppe Verlag

Year of publication
2015

ISBN
978-3-89645-910-7

OPAC

Abstract
An Eritrean Village Reacts to Land Reform examines the roots of the Eritrean government's land nationalisation policy – decreed in 1994 but never fully implemented – and the reactions of members of that community to that policy. Those reactions were sceptical, even though the people of this community had adopted the Eritrean national identity offered to them by the new state.

Today, as the problems of national liberation and land reform remain unresolved in Eritrea, O'Kane's book provides new insights into the relationships between land, identity and politics in today's Africa and today's world.