Hunting justice: displacement, law and activism in the Kalahari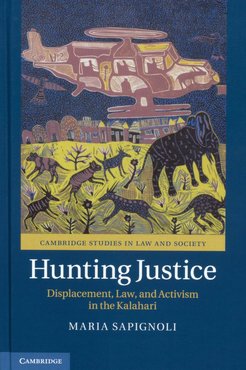 Author
Maria Sapignoli

Publisher
London; New York, NY: Routledge

Year of publication
2018

ISBN
978-1-107-19157-0

OPAC

Abstract
This book presents a long-term study of the activist campaign that contested the Botswana government's much-publicized removal of the San and Bakgalagadi people from the Central Kalahari Game Reserve. Sapignoli's multiple points of observation and analysis range from rural Botswana to the nation's High Court, and a variety of United Nations agencies in their Headquarters, focusing on rights claimants and officials from NGOs, states and the United Nations as they acted on the grievances of those who had been displaced. In offering a comprehensive discussion of the San people and their claims-making through formal institutions, this book maintains a consistent focus on the increased recourse to law and the everyday experience of those who are asserting their rights in response to the encroachments of the state and the opportunities inherent in new indigenous advocacy networks.