Les assises de l'interculturalité / De Rondetafels van de Interculturaliteit / The Round Tables on Interculturalism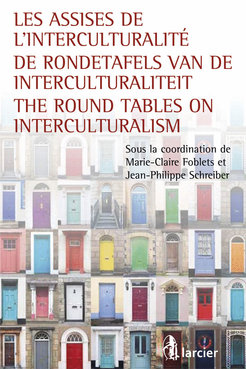 Author
Marie-Claire Foblets, Jean-Philippe Schreiber (eds.)

Publisher
Bruxelles: Larcier Year of publication 2013

ISBN
978-2-8044-5397-8

OPAC

Abstract
Le rapport final des Assises de l'Interculturalité remis au gouvernement fédéral en 2010, et en particulier certaines des recommandations qu'il avance, ont fait l'objet de réactions diverses, laissant dans l'ombre le reste du rapport et ses travaux préparatoires. Face au manque de nuance de certaines opinions exprimées, il a paru utile d'évaluer et d'analyser ces recommandations par une série d'experts et d'intellectuels, belges et étrangers, pour offrir les regards croisés d'auteurs venus d'horizons disciplinaires et philosophiques différents.

L'objectif de l'ouvrage est de permettre que le débat se poursuive, se nuance et s'élargisse, en examinant les bénéfices, ou au contraire les risques, que comporterait la mise en oeuvre concrète de certaines recommandations des Assises de l'Interculturalité. Il vise par cet examen comparé à confronter les points de vue au regard de la problématique de la société multiculturelle, des expériences en la matière et des rapports semblables qui ont été rendus publics dans plusieurs autres pays.

L'ouvrage intéressera les décideurs politiques, les chercheurs, mais aussi les professeurs et leurs étudiants.