A Test of Faith? Religious diversity and accommodation in the European workplace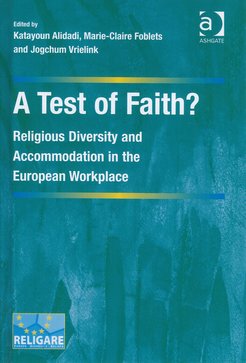 Author
Katayoun Alidadi, Marie-Claire Foblets, Jogchum Vrielink (eds.)

Publisher
Farnham: Ashgate

Year of publication
2012

ISBN
978-1-40944-502-9

OPAC

Abstract
Issues of religious diversity in the workplace have become very topical and have been raised before domestic courts and the European Court of Human Rights. Examining the controversial and constantly evolving position of religion in the workplace, this collection brings together chapters by legal and social science scholars and provides a wealth of information on legal responses across Europe, Turkey and the United States to conflicts between professional and religious obligations involving employees and employers.

The contributors examine how case law from the European Court of Human Rights, domestic experiences and comparative analyses can indicate trends and reveal established and innovative approaches. This multi-perspective volume will be relevant for legal practitioners, researchers, academics and policy-makers interested in human rights law, discrimination law, labour law and the intersection of law and religion.