Exploring the Edge of Empire: Soviet era anthropology in the Caucasus and Central Asia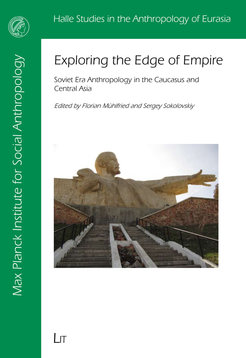 Author
Florian Mühlfried and Sergey Sokolovskiy (eds.)

Publisher
Berlin: Lit-Verlag

Year of publication
2011

ISBN
978-3-643-11227-9

OPAC

Abstract
This collection explores theoretical and empirical developments in the anthropology of the Caucasus and Central Asia, originating in or shaped by the Soviet era. Special attention is paid to the creation of local and national schools as well as to the role of institutional and biographical dis/continuities. Within the academic field of anthropology in the Soviet republics, Russia-based research institutes and regional branches of the former Soviet Academy of Sciences played a special role. Explorations of this role and of the impact of ideology are pertinent to the controversial question as to whether the Soviet Union was essentially a colonial enterprise. The authors include leading anthropologists from the Caucasus and Central Asia, as well as regional specialists from the Russian Federation and western countries.