Beyond Writing Culture: current intersections of epistemologies and representational practices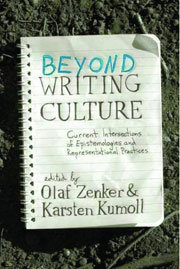 Author
Olaf Zenker, Karsten Kumoll (eds.)

Publisher
New York, Oxford: Berghahn Books

Year of publication
2010

ISBN
978-1-84545-675-7

OPAC

Abstract
Two decades after the publication of Clifford and Marcus' volume Writing Culture, this collection provides a fresh and diverse reassessment of the debates that this pioneering volume unleashed. At the same time, Beyond Writing Culture moves the debate on by embracing the more fundamental challenge as to how to conceptualize the intricate relationship between epistemology and representational practices rather than maintaining the original narrow focus on textual analysis. It thus offers a thought-provoking tapestry of new ideas relevant for scholars not only concerned with "the ethnographic Other," but with representation in general.