Permutations of Order. Religion and law as contested sovereignties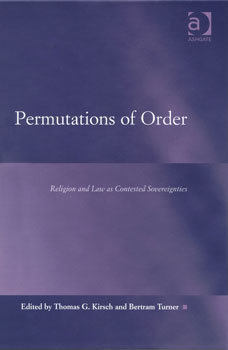 Author
Thomas G. Kirsch and Bertram Turner (eds.)

Publisher
Farnham: Ashgate

Year of publication
2009

ISBN
978-0-7546-7259-3

OPAC

Abstract
Permutations of Order makes an innovative and important contribution to current discussions about the relationship between religion and law, bringing together theoretically informed case studies from different parts of the world, relating to various types of politico-legal settings and religions. This volume also deals with contemporary legal/religious transfigurations that involve "permutations," meaning that elements of "legal" and "religious" acts of ordering are at times repositioned within each realm and from one realm to the other. These permutations of order in part result from the fact that, in ethnographic settings like those examined here, "legal" and "religious" realms are relational to-and in certain cases even constitutive of-each other and they result in categoric transpositions and new social positionalities through which, among other things, "the legal" and "the religious" are blended. Permutations of Order is a work that transcends convention, identifies new and theoretically overarching themes and will be of strong interest to researchers and policy-makers seeking a comparative focus on the intersections and disjunctions of religion and law.