Spatializing Law. An anthropological geography of law in society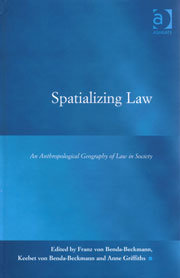 Author
Franz von Benda-Beckmann, Keebet von Benda-Beckmann and Anne Griffiths

Publisher
Farnham: Ashgate

Year of publication
2009

ISBN
978-0-7546-7291-3

OPAC

Abstract
Spatializing Law: An Anthropological Geography of Law in Society focuses on law and its location, exploring how spaces are constructed on the terrestrial and marine surface of the earth with legal means in a rich variety of socio-political, legal and ecological settings. The contributors explore the interrelations between social spaces and physical space, highlighting the ways in which legal rules may localise people's rights and obligations in social space that may be mapped onto physical space. This volume also demonstrates how different notions of space and place become resources that can be mobilised in social, political and economic interaction, paying specific attention to the contradictory ways in which space may be configured and involved in social interaction under conditions of plural legal orders. Spatializing Law makes a significant contribution to the anthropological geography of law and will be useful to scholars across a broad array of disciplines.