Pastoral Sedentarisation, Natural Resource Management, and Livelihood Diversification in Marsabit District, Northern Kenya. 2 Volumes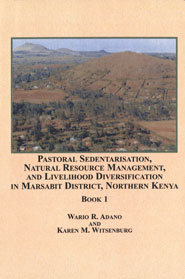 Author
Wario R. Adano, Karen M. Witsenburg

Publisher
Lampeter: Edwin Mellen Press

Year of publication
2008

ISBN
978-0-7734-5043-1

OPAC

Abstract
This study shows how mainstream academic thinking on pastoralism still largely ignores the developments within pastoral societies themselves, and why contrasting the mobility paradigm and sedentarisation polices is unfruitful. It argues for a redefinition of 'pastoralism' as a production system and as a social identity marker. This book contains fourteen color photographs.