In the Land of Orpheus: rural livelihoods and nature conservation in postsocialist Bulgaria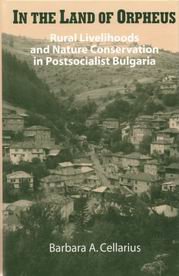 Author
Barbara A. Cellarius

Publisher
University of Wisconsin Press

Year of publication
2004

ISBN
0-299-20150-3

OPAC

Abstract
In the Land of Orpheus tells the tale of two communities interested in Bulgaria's Rhodope Mountains—rural villagers and conservation advocates— and seeks to understand how the everyday realities of rural residents relate to global concerns about the conservation of biological diversity. Barbara Cellarius describes natural resource use and the ways in which the lives of residents of a rural Rhodope Mountain community are affected by outside forces, particularly the economic and political uncertainties that have plagued Bulgaria since the collapse of communism in the country in 1989, but also postsocialist processes of agricultural land restitution. She shows how nature conservation efforts and organizations in Bulgaria are similarly affected by, and responding to, the political and economic context in the country and beyond. Environmental nongovernmental organizations (NGOs) working in Bulgaria and especially in the Rhodope Mountains form an institutional mechanism mediating between local, national, and international levels in conservation efforts. Their activities and programs attempt to link global conservation priorities with local communities. Cellarius considers the prospects for the future of the Rhodope region and the roles of these key players—rural residents/ "local" NGOs, the Bulgarian government, and international conservation organizations.