Properties of Culture – Culture of Property. Pathways to Reform in Post-Soviet Siberia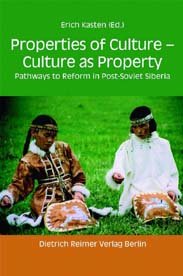 Author
edited by Erich Kasten

Publisher
Dietrich Reimer Verlag Berlin

Year of publication
2004

ISBN
3-496-02768-1

OPAC

Abstract
Indigenous groups are reshaping and claiming possession of symbols, not only in the Russian North and other circumpolar regions but worldwide. In addition to material objects and practices, knowledge itself is increasingly claimed as the exclusive heritage of a specific group, whose members then assert privileges on this basis. The commodification of culture as a form of property is a product of complex processes of identity construction. Native groups in the circumpolar North, although sharing similar natural environments, have experienced very different political histories. This book explores the consequences of this variation for the ways in which culture is nowadays celebrated, but also manipulated and reified. The main focus is on Siberia, but the studies will also be of interest to all those following the theoretical and practical debates concerning three key concepts of contemporary anthropology: culture, property and indigeneity.