Drahtseilakte. Frauen aus Nordghana zwischen Bildung, Beruf und gesellschaftlichen Konventionen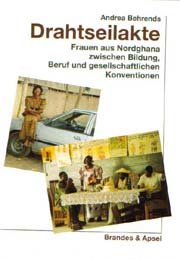 Author
by Andrea Behrends

Publisher
Frankfurt/Main: Brandes & Apsel, 2002

Year of publication
2002

ISBN
3-86099-309-7

OPAC

Abstract
This book explores how educated women from Northwestern Ghana try to balance educational and professional success with what is expected of them as Dagara/Dagaaba women. Living in the bigger cities of Ghana, but staying in close contact to their home area, they are asked, on the one hand, to maintain a rural concept of humble, quiet and obedient women. In their professional life, on the other hand, their job requires self-confidence, authority and vocality of them. This book's title, "Tightrope Walking", is the name the women themselves gave to the process of meeting these conflicting requirements.
Als "Drahtseilakt" bezeichnen gebildete Dagara-Frauen in Nordghana die Notwendigkeit, ihre schulischen und beruflichen Erfolge mit einem gesellschaftlich definierten Frauenbild auszubalancieren, das von ihnen vor allem Zurückhaltung, Fleiß und Gehorsam fordert. Wie können sie das erreichen? Die Ethnologin Andrea Behrends folgte der Geschichte und dem Alltagsleben dieser Frauen, die als erste ihrer ländlichen Heimatregion in Nordghana Zugang zu Schul- und Berufsausbildung hatten. Als inzwischen beruflich erfolgreiche Städterinnen unterscheidet sich das Leben dieser Frauen zutiefst von dem ihrer Mütter und Schwestern.