Post-socialist peasant? - rural and urban constructions of identity in Eastern Europe, East Asia and the former Soviet Union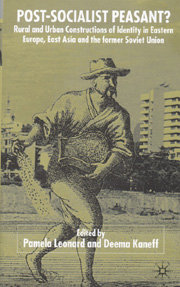 Author
edited by Pamela Leonhard and Deema Kaneff

Publisher
Basingstoke: Palgrave, 2002

Year of publication
2002

ISBN
0-333-79339-0

OPAC

Abstract
During the past decade, life in post-socialist states has seen much instability and conflict. In the context of political-economic reform, the book focuses on changes in rural-urban relations - and on growing divisions between town and country. Contributions to this volume explore local responses to market-oriented policies and the dynamics of rural disenfranchisement. The chapters provide important insights into rural political perspectives on the new institutional contexts and changing values that accompany reform. Rural responses resonate with the growing concern worldwide to find a 'human face of capitalism'.