Legal Pluralism in the Management of Natural Resources: The Case of the Moroccan Argan Forest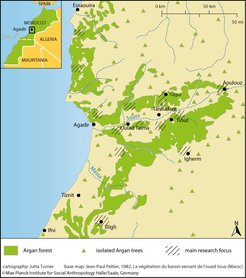 Taking historical instances of globalization as a point of departure, the integration of a local natural resource and its extraction schemes in the global economy is analyzed. The research project addresses the intertwining and coproduction of normative and technological strands in the politics of natural resource extraction. Special attention is paid to the ways in which such entanglements of lawmaking, especially the production of transnational legal templates, with sciences, technology, and other knowledge regimes interact in scalar arrangements with complex plural legal configurations on the ground.
From this vantage point, the integration of the Moroccan argan forest into the world economy is analyzed within the context of variegated and competing schemes of resource exploitation. From the great diversity of established modes of resource utilization in argan forest management, chiefly three schemes of exploitation are seen as interactive patterns of extraction that link up with the transnational economy: agriculture, especially the various ways of integrating forest into global cash crop production; mobile herding; and argan oil production.
It is investigated in which ways resource transformation, by means of technological innovation and normative framing, is co-occurring with social transformation. Besides the established rural elite that had appeared in the wake of post-independence state building, the focus is directed, first, on the emergence of a rural neo-elite that would seem to be networking at a larger scale, second, on the struggles of an unstable and small middle class that has developed in the shadow of the post-independence rural elite, and, third, on the decline of the standards of living of the majority of the rural poor. In this social fabric, the third group appears threatened by neoliberal market integration as the target of expropriation strategies, while increasingly pushed to assume greater responsibility.
The research shows how this delegation of responsibility for the conservation and the sustainability of forest extraction management to local use rights holders involves the transformation of a local staple into an exploitable global commodity as a niche product. From this angle, the research contributes to the ongoing debate revolving around the transformation of the access rights of local people into responsibilities for resource sustainability as implicit forms of 'de facto soft land and resource grabbing'. Due to intensified and competitive resource exploitation and the intervention of various transnational providers of legal templates, development actors, INGOs, global governance institutions, and activists of transnational political Islam, conflict constellations have been exacerbated and become even more complex.

Moroccan Argan Oil
The emergence of argan oil on the world market takes center stage in all this. Argan oil is the world's most expensive nutritional oil today. Prized for its particular nutty flavors, it has even found its way into the world of high-end cuisine. The oil is also used in the pharmaceutical and cosmetic industries. It is processed from the fruit of the argan tree, which is endemic to southwest Morocco and forms a unique forestal ecosystem there. In December 1998, the argan forest was declared the first UNESCO biosphere reserve in Morocco.
An analysis is conducted of how configurations of inventories of knowledge, legal repertoires (state legislation, customary law, Islamic normativities, project law, transnational legal templates, etc.), and technologies all meet a variety of requirements necessary for profitable global commodification at once: the transformation of local knowledge into capitalizable intellectual property; the divestment of the rights of the local population; the securing of the continuous provision of the original product to the industry, and its association with the economy of solidarity and equity as a fairly traded, certified, labeled, and protected eco-organic niche product and health good. From there, the question logically ensues as to the extent that such transformative processes lead to repercussions on the transnational scale as well.
The basic layers are analyzed, which concur in terms of neoliberal resource design: the normative framing of the resource, the formation of production cooperatives as an appropriate model for an "integrated resource exploitation scheme" and the setup of an overarching infrastructural design for extraction. The consequences that such economic integration may entail for local use right holders and the rural population of the Moroccan southwest in general, as regards livelihood conditions and legal agency, are placed in the foreground.

Keywords:
Law, science and technology (LST); extractive economies; infrastructure; supply chain legal pluralism; transnational legal templates [CBD; man and the biosphere; Nagoya Protocol; human rights; indigenous rights; women's rights; TRIPS; IPR; anti-terrorism legislation]; and trans-scalar legal arrangements; global governance; development cooperation; project law; integration of natural resources into the global economy, transformation of a local staple into a global commodity and niche product [economy of solidarity, certifications; labeling; PGI; CS/ER; benefit sharing models, patent disclosure requirements; cooperatives]; plural legal configuration [state legislation, customary law, Islamic normativities; property and inheritance; land tenure; usufruct rights]; cash crop production; argan forest; Morocco; Souss; Islamic activism…



Publications
2016 'Supply-chain legal pluralism: normativity as constitutive of chain infrastructure in the Moroccan argan oil supply chain', Journal of Legal Pluralism and Unofficial Law 48, 3: 378-414.
2015 'Die normativ-technologische Konstruktion einer Wertschöpfungskette: Arganöl aus Marokko', Max Planck Gesellschaft Jahrbuch 2015.
2014 'Neoliberal Politics of Resource Extraction: Moroccan Argan Oil', Forum for Development Studies 41,2: 207-232.
2013 'Arganöl – eine Weltkarriere: Teil II: Wertschöpfungsketten und Ressourcenmanagement', Journal Culinaire 17: 103–118.
2013 'Arganöl – eine Weltkarriere: Teil I: Gastronomische Spezialität und industrieller Rohstoff', Journal Culinaire 16: 97–108.
2010 (with Melanie Wiber) 'Moral Talk: The Ontological Politics of Sustainable Development', Max Planck Institute for Social Anthropology Working Papers No. 123 (36 pp.)
2009 'Intervention transnationale et la morale dans la gestion de la propriété en milieu rural au Maroc', Anthropologica. Journal of the Canadian Anthropology Society 51(1): 81–93.
2009 (with Melanie G. Wiber) 'Conjonctions paradoxales: Propriété rurale et accès aux ressources dans un environnement transnational', Anthropologica. Journal of the Canadian Anthropology Society 51(1): 15–28.
2009 'Religious message and transnational interventionism: constructing legal practice in Moroccan Souss', in: Permutations of Order: Religion and Law as Contested Sovereignties. Farnham and Burlington: Ashgate, 185–209.
2008 'Whose Complementarity? Social Lines of Conflict between Mobile Pastoralism and Agriculture in the Context of Social Differentiation in the Moroccan Sus', Max Planck Institute for Social Anthropology Working Papers No. 101 (34 pp.).
2007 (with Franz von Benda-Beckmann and Keebet von Benda-Beckmann) 'Umstrittene Traditionen in Marokko und Indonesien', Zeitschrift für Ethnologie 132(1): 15–35.
2007 'Imposing new concepts of order in rural Morocco: Violence and transnational challenges to local order', in: Keebet von Benda-Beckmann and Pirie, Fernanda (eds.): Order and Disorder: Anthropological Perspectives. Oxford and New York: Berghahn, 90–111.
2007 'Social lines of conflict between mobile pastoralism and agriculture in the Moroccan Souss', in: Ingo Breuer and Gertel, Jörg (eds.): Pastoral Morocco: Globalizing Scapes of Mobility and Insecurity. Wiesbaden: Reichert, 193–210.
2006 'Competing global players in rural Morocco: upgrading legal arenas', Journal of Legal Pluralism 53/54 (Special issue: Dynamics of Plural Legal Orders, (eds.) Franz von Benda-Beckmann and Keebet von Benda-Beckmann): 101–139.
2005 'Der Wald im Dickicht der Gesetze: Transnationales Recht und lokale Rechtspraxis im Arganwald (Marokko)', Entwicklungsethnologie 14(1&2): 97–117.
2005 Local legal repertoires, access to natural resources, and the impact of transnational legal actors, in: Max Planck Institute for Social Anthropology (ed.): Report 2004 – 2005, Halle/Saale: dmv, 244–246.
2005 Lokales Recht, Ressourcenzugang und der Einfluss transnationaler Rechtsakteure in Südwest-Marokko, in: Günther Schlee (ed.): Max-Planck Institut für ethnologische Forschung Bericht Sonderausgabe 2005, Halle/Saale: dmv, 192–196.
2003 Chr'ka in Southwest Morocco: Forms of Agrarian Cooperation between Khammessat System and Legal Pluralism, in: Rajendra Pradhan (ed.): Legal Pluralism and Unofficial Law in Social, Economic and Political Development. Papers of the XIIIth International Congress, 7-10 April 2002, Chiang Mai, Thailand, Vol. III. Kathmandu: ICNEC, 227–255.
2003 Legal Dimensions of Natural Resource Management in the Argan Zone in Southwestern Morocco: between sustainable development and 'taking the best from nature', in: Max Planck Institute for Social Anthropology (ed.): Report 2002–2003. Halle/Saale: dmv, 283–286.
2002 Chr'ka im Südwesten Marokkos: Kooperationen im Agrarbereich zwischen Khammessat-System und Rechtspluralismus, in: Anke Reichenbach, Seige, Christine and Streck, Bernhard (eds.): Wirtschaften. Festschrift Wolfgang Liedtke, Gehren: Escher Verlag, 69–100.
2001 Die Persistenz traditioneller Konfliktregelungsverfahren im Souss; Marokko, in: Wolfgang Fikentscher (ed.): Begegnung und Konflikt – eine kulturanthropologische Bestandsaufnahme (Bayerische Akademie der Wiss., Phil.-Hist. Kl., Abhandlungen, N.F., H.120) München: C.H. Beck, 187–202.
2000 Sustainable Development and Indigenous Conceptions of Natural Resources Management in the Argan Forest of SW Morocco, in: Milka Castro Lucic (ed.): Actas del XII Congreso International de la Comisión de Derecho Consuetudinario y Pluralismo Legal, 2 tomos. Santiago volume I, 490–504.
1999 Agrarethnographie, Ressourcennutzung und die Persistenz traditioneller kollektiver Wertvorstellungen und Rechtsauffassungen im Souss; Marokko, in: Hans Peter Hahn and Spittler, Gerd (eds.): Afrika und die Globalisierung, Hamburg: Lit Verlag, 491–501. (= Schriften der Vereinigung von Afrikanisten in Deutschland (VAD e.V.); volume 18).