Emerging Orders in the Sudans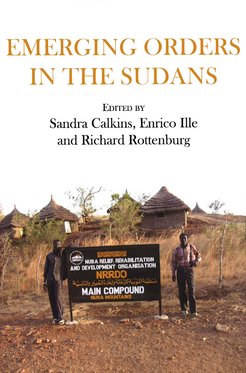 Authors
Sandra Calkins, Enrico Ille, Richard Rottenburg (eds.)

Publisher
Bamenda (Cameroon): Langaa RPCIG

Year of Publication
2014

ISBN
978-9-95679-216-0

OPAC

Abstact
This book explores the emergent character of social orders in Sudan and South Sudan. It provides vivid insights into multitudes of ordering practices and their complex negotiation. Recurring patterns of exclusion and ongoing struggles to reconfigure disadvantaged positions are investigated as are shifting borders, changing alliances and relationships with land and language.
The book takes a careful and close look at institutional arrangements that shape everyday life in the Sudans, probing how social forms have persisted or changed. It proposes reading the post-colonial history of the Sudans as a continuous struggle to find institutional orders valid for all citizens. The separation of Sudan and South Sudan in 2011 has not solved this dilemma. Exclusionary and exploitative practices endure and inhibit the rule of law, distributive justice, political participation and functioning infrastructure. Analyses of historical records and recent ethnographic data assembled here show that orders do not result directly from intended courses of action, planning and orchestration but from contingently emerging patterns. The studies included look beyond dominant elites caught in violent fights for powers, cycles of civil war and fragile peace agreements to explore a broad range of social formations, some of which may have the potential to glue people and things together in peaceful co-existence, while others give way to new violence.