Migration and Conflict: the integration of Burkinabe migrants displaced from Côte d'Ivoire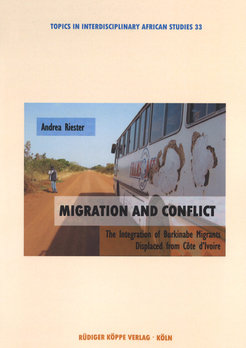 Author
Andrea Riester

Publisher
Köln: Rüdiger Köppe Verlag

Year of publication
2013

ISBN
978-3-89645-903-9

OPAC

Abstract
'Migration and Conflict' contributes to transnationalism research and ethnographic writing about Westafrica. It deals with questions of integration and collective identity in the context of migration by looking into the multi-ethnic and multi-religious locality of Batié in southwest Burkina Faso. The town experienced rapid social change brought about by the arrival of a large number of displaced migrants from Côte d'Ivoire during the civil war in 2002-3. The book analyses conflicts between these rapatriés and non-migrants as negotiations about identity and belonging.