Shadow Networks: border economics, informal markets and organized crime in the Russian Far East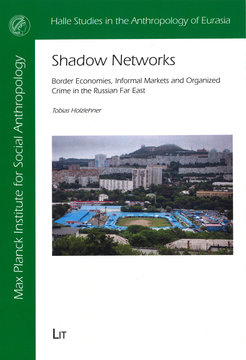 Author
Tobias Holzlehner

Publisher
Münster, Zürich: LIT Verlag

Year of Publication
2014

ISBN
978-3-643-90651-9

OPAC

Abstact
After the breakdown of the Soviet Union new cultural and economic practices emerged out of the fragments of the collapsed state. Exploring economic activities in the Russian Far East, this book focuses on new informal economic practices and non-regulated commercial organizations and seeks to understand the emerging roles of entrepreneurs, organized crime, and the state in post Soviet Russia. Based on anthropological fieldwork in the Russian Far East, especially in the port city of Vladivostok, Holzlehner focuses on large open-air markets, on so-called shuttle traders that cross the Russian-Chinese border on a regular basis to import cheap consumer goods for local markets, and on different organized crime groups, which evolved during the transition period in the Russian Far East. Based on the analysis of social networks and focusing on different qualities of relational ties, the boo proposes a methodological and theoretical apparatus to understand the mechanics and dynamics of informal economic networks more thoroughly.