Managing Frontiers in Qing China: the Lifanyuan and Libu revisited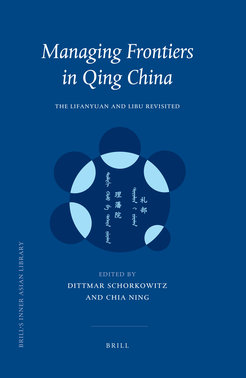 Authors
Dittmar Schorkowitz, Chia Ning (eds.)

Publisher
Leiden: Brill

Year of publication
2017

ISBN
978-90-04-32995-9

OPAC

Abstract
In Managing Frontiers in Qing China, historians and anthropologists explore China's imperial expansion in Inner Asia, focusing on early Qing empire-building in Mongolia, Xinjiang, Tibet, and beyond – Central Asian perspectives and comparisons to Russia's Asian empire are included. Taking an institutional-historical and historical-anthropological approach, the essays engage with two Qing agencies well-known for their governance of non-Han groups: the Lifanyuan and Libu. This volume offers a comprehensive overview of the Lifanyuan and Libu, revising and assessing the state of affairs in the under-researched field of these two institutions. The contributors explore the imperial policies towards and the shifting classifications of minority groups in the Qing Empire, explicitly pairing and comparing the Lifanyuan and Libu as in some sense cognate agencies. This text offers insight into how China's past has continued to inform its modern policies, as well as the geopolitical make-up of East Asia and beyond.