Politics and Policies in Upper Guinea Coast Societies: change and continuity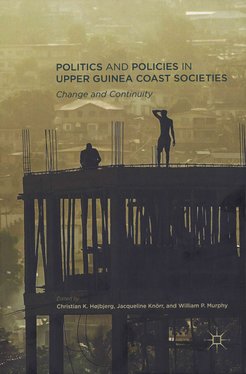 Authors
Christian K. Højbjerg, Jacqueline Knörr, William P. Murphy (eds.)

Publisher
New York: Palgrave Macmillan

Year of publication
2017

ISBN
978-1-349-95012-6

OPAC

Abstract
This book examines the radical changes in social and political landscape of the Upper Guinea Coast region over the past 30 years as a result of civil wars, post-war interventions by international, humanitarian agencies and peacekeeping missions, as well as a regional public health crisis (Ebola epidemic). The emphasis on 'crises' in this book draws attention to the intense socio-transformations in the region over the last three decades. Contemporary crises and changes in the region provoke a challenge to accepted ways of understanding and imagining socio-political life in the region – whether at the level of subnational and national communities, or international and regional structures of interest, such as refugees, weapon trafficking, cross-border military incursions, regional security, and transnational epidemics. This book explores and transcends the central explanatory tropes that have oriented research on the region and re-evaluates them in the light of the contemporary structural dynamics of crises, changes and continuities.