Intimate divisions: street-level orthodoxy in post-Soviet Russia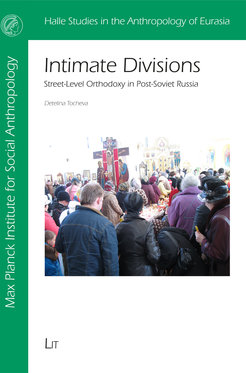 Author
Detelina Tocheva

Publisher
Münster, Berlin: LIT Verlag

Year of publication
2017

ISBN
978-3-643-90873-5

OPAC

Abstract
The resurgence of the Russian Orthodox Church after the fall of the Soviet Union has rendered it a popular source of identification, even though few Russians bother to observe the faith strictly. What makes the tie between the Church and society so strong? This book, based on ethnographic fieldwork in urban parishes in the Saint Petersburg Region, argues that, at the level of the street, post-Soviet inequalities have contributed to the entanglements between Russian society and the Orthodox Church by shaping the structure and meaning of everyday religious interaction. By rebuilding churches, participating in the parish economy and Orthodox schooling, pondering over almsgiving, and providing charitable support to common needy, agents of many kinds experience, reproduce, and critique Russia's social order.