The migration of highly educated Turkish citizens to Europe: from guestworkers to global talent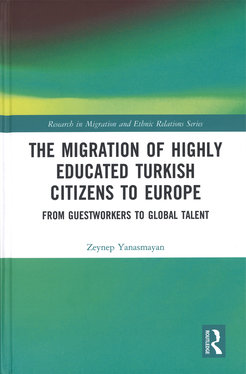 Author
Zeynep Yanasmayan

Publisher
London; New York, NY: Routledge

Year of publication
2019

ISBN
978-1-472-47935-8

OPAC

Abstract
The increasing global competition of knowledge economies has begun a new era of labour migration, as economies chase 'the best and the brightest': the movement of highly skilled workers. This book examines the experiences of highly educated migrants subjected to two distinct and incompatible public discourses: one that identifies them in terms of nationality and presupposed religion, and another that focuses on their education and employment status, which suggests that they deserve the best treatment from societies engaged in the global 'race for talent'. Presenting new empirical research collected in Amsterdam, Barcelona and London amongst highly educated migrants from Turkey, the author draws on their narratives to address the question of whether such migrants should be apprehended any differently from their predecessors who moved to Europe as 'guestworkers' in the twentieth century. With attention to the reasons for which highly skilled workers choose to migrate and then stay (or not) in their 'host' countries, their connection to their multiple homes and the ways in which they meet the challenges of integration – in part by way of their position in relation to other migrants – and their acquisition of citizenship in the 'host' country, The Migration of Highly Educated Turkish Citizens to Europe offers insights on an under-researched trend in the field of migration. The author develops three nexuses – the mobility/migration nexus, the mobility/citizenship nexus, and the mobility/dwelling nexus – to account for the embedded sense of mobility that underlies these 'new' migrants and offers a holistic picture about their trajectory from 'arrival to settlement' and all that lies in-between. As such, it will appeal to scholars in the fields of sociology and political science with interests in migration and mobility, ethnicity and integration.