The Oxford handbook of law and anthropology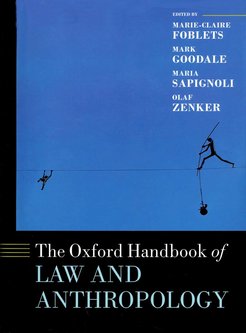 Authors
Marie-Claire Foblets, Mark Goodale, Maria Sapignoli, Olaf Zenker (eds.)

Publisher
Oxford: Oxford University Press

Year of publication
2022

ISBN
978-0-19-884053-4

OPAC

Abstract
The Oxford Handbook of Law and Anthropology is a ground-breaking collection of essays that provides an original and internationally framed conception of the historical, theoretical, and ethnographic interconnections of law and anthropology. Each of the chapters in the Handbook provides a survey of the current state of scholarly debate and an argument about the future direction of research in this dynamic and interdisciplinary field. The structure of the Handbook is animated by an overarching collective narrative about how law and anthropology have and should relate to each other as intersecting domains of inquiry that address such fundamental questions as dispute resolution, normative ordering, social organization, and legal, political, and social identity.