The Thorny Path to the Middle Class: The Social Mobility of West-African Migrant Women in Europe
From 26 to 28 October 2022, a workshop titled "Gender, Migration and Social Mobility among Transnational West African Women" will be held at the Max Planck Institute for Social Anthropology (MPI). Using case studies to illuminate an under-researched topic, workshop participants will explore the paths of African women who come to Europe to start new lives. Event organizers are research group heads Anaïs Ménard and Jacqueline Knörr. Online participation in the workshop is possible; please register with Sophie Schreyer (schreyer@eth.mpg.de).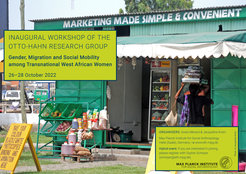 Underrecognized: the role of migrant women
The global phenomenon of migration has been the subject of countless research projects. Yet when it comes to studying the concrete life situations of migrants, research tends to focus on men. "Migrant women are often overlooked, and we therefore know comparatively little about them", says Anaïs Ménard, Head of the Otto Hahn Group "Gender, Migration and Social Mobility" at the MPI. Public discussions about migration are also dominated by the figure of the young man who sets out alone in search of a better life in Europe, leaving his family in the homeland. "With the case studies presented at our workshop, we aim to correct this distorted picture", explains Ménard. "Women are absolutely involved in decisions about migration; they choose to migrate of their own accord and play an important role in successful integration into the new social environment and labour market."
Social mobility: a difficult struggle
For this reason, the workshop focuses on the long-term strategies that women use to establish lives in Europe and improve their social position. Existing transnational networks, individual abilities, and the legal preconditions are just as important in this process as their family situation. Ménard: "My research indicates that women are by no means passive victims of social and economic circumstances. Quite the contrary: many of them successfully pursue long-term goals, are economically successful, and manage to rise into the middle class." This achievement is usually hard-won and remains fragile, as the workshop contributions acknowledge. Some of the papers also look at what opportunities and possibilities are available to women who remigrate back to their country of origin. There, Jacqueline Knörr states, they often encounter sociocultural conditions, gender-related inequalities, and other barriers to economic success in spite of the social and cultural capital that they have acquired during their time in Europe. However, their migrant experience and the transnational networks they have built often contribute to overcoming such hindrances and thereby to successful social and economic undertakings back home.
Contact for this press release
Dr. Anaïs Ménard
Max Planck Institute for Social Anthropology
Advokatenweg 36, 06114 Halle (Saale)
Tel.: 0345 2927-150
Mail: menard@eth.mpg.de
https://www.eth.mpg.de/menard
Prof. Dr. Jacqueline Knörr
Max Planck Institute for Social Anthropology
Advokatenweg 36, 06114 Halle (Saale)
Tel.: 0345 2927-128
Mail: knoerr@eth.mpg.de
https://www.eth.mpg.de/knoerr
PR Contact
Stefan Schwendtner
Press and Public Relations
Max Planck Institute for Social Anthropology
Advokatenweg 36, 06114 Halle (Saale)
Tel.: 0345 2927-425
Mail: schwendtner@eth.mpg.de
http://www.eth.mpg.de