Global Sceptical Publics. From non-religious print media to 'digital atheism'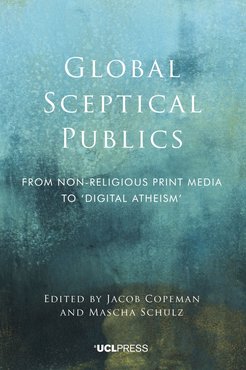 Authors
Jacob Copeman, Mascha Schulz (eds.)

Publisher
London: UCL Press (open access)

Year of publication
2022

ISBN
978-180-00-8344-8

OPAC

Abstract
Global Sceptical Publics is the first major study of the significance of different media for the (re)production of non-religious publics and publicity. While much work has documented how religious subjectivities are shaped by media, until now the crucial role of diverse media for producing and participating in religion-sceptical publics and debates has remained under-researched. With some chapters focusing on locations hitherto barely considered by scholarship on non-religion, the book places in comparative perspective how atheists, secularists and humanists engage with media – as means of communication and forming non-religious publics, but also on occasion as something to be resisted. Its conceptually rich interdisciplinary chapters thereby contribute important new insights to the growing field of non-religion studies and to scholarship on media and materiality more generally.