Head of Research Group Christoph Brumann Elected to the Senate of the MPG
Christoph Brumann, Head of Research Group at the Max Planck Institute for Social Anthropology and Honorary Professor at Martin Luther University Halle-Wittenberg, has been elected as a member of the Senate of the Max Planck Society (MPS). He fulfills these duties as the newly elected speaker of the Scientific Staff Representatives of the Human Sciencies Section of the MPS. As such, he has also become a member of the Perspective Council of the section.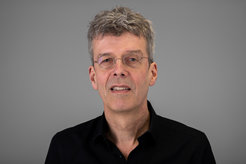 The Senate is the central decision-making and supervisory body of the Max Planck Society and includes representatives from the Institutes as well as members from wider circles of society. Its responsibilities include electing the President and the members of the Executive Committee and deciding on the appointment of the Secretary General. The Senate also deliberates on the establishment or closure of institutes, the appointments of Scientific Members and institute directors, as well as on the budget. "The Senate of the MPG is where important decisions are discussed and groundwork is laid that will shape the research landscape of tomorrow. I am excited to join the Senate and contribute to this process", Brumann says.
Organizational structure of the Max Planck Society

List of Members of the Senate of the Max Planck Society