Religious accommodation and its limits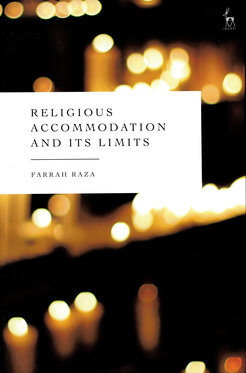 Author
Farrah Raza

Publisher
Oxford: Hart Publishing

Year of publication
2023

ISBN
978-1-50993-710-3

OPAC

Abstract
On what grounds should religious accommodation claims be limited? When do religious claims harm the autonomy of others?

This book proposes an original model of religious accommodation which can be applied in secular liberal democracies where religious diversity has been a hotly contested issue. Addressing the complex question of limitations to the right to Freedom of Religion or Belief and how these limitations might be determined, it examines how religious claims can harm the autonomy of others and emphasises the need for an appropriate balancing of competing interests. Drawing on a range of case study examples from jurisdictions including the US, Canada, the European Court of Human Rights, the European Union's Court of Justice, the UK, Germany and France, this is a timely contribution to the debate on how a legal duty or policy approach in favour of religious accommodation can be applied in practice. Moreover, the proposed model offers criteria that may be used to guide the implementation of equality and diversity policies in contexts such as employment and education. The book will be of interest to academics, legal practitioners and policy-makers in the field..