The Alumni Interview: 10 Questions for Olaf Zenker
At irregular intervals we publish interviews with alumni of the Max Planck Institute for Social Anthropology. We find out where they are living and working now, what they are conducting research on, and how their time at the MPI shaped their subsequent careers. In closing they share their advice for young anthropologists and name a book that has impressed them recently.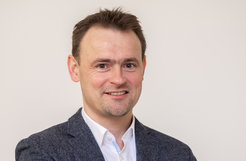 1. When were you at the MPI and what did you work on while you were here?
From 2003 to 2008 I was a doctoral student in the Department 'Integration and Conflict'; subsequently, until 2009, I was a postdoctoral research fellow of the Max Planck Fellow Group "Law, Organisation, Science and Technology (LOST)".

2. Where do you work now?
After temporary stints at various universities in Switzerland and Germany, I returned to Halle in 2019 to take up a professorship at the Institute for Social and Cultural Anthropology at Martin Luther University.

3. How did the time you spent at the MPI shape your current career?
My experiences at the MPI were extremely formative. The institute offered me an exceptional opportunity to explore my research interests during my doctoral studies and after, and I benefited enormously from the mentoring and discussions with colleagues and scholars from around the world. This played a crucial role in my path to becoming a professor of anthropology.

4. When you think back on your time at the MPI, what stands out most strongly?
During my time at the MPI – and even more so now, when I can compare it to experiences in a university setting – I was very conscious of the privileged conditions that allowed me to concentrate entirely on my research. The combination of an intellectually inspiring environment with what is probably the highest concentration of anthropologists in the world, optimal funding, excellent administrative support, and an outstanding library is really one of a kind. And not least I recall with pleasure the experience of social togetherness and our parties in the seminar rooms, the empty cafeteria, or the garden. It was a wonderful period of my life.

5. Do you still have connections with the MPI, and if so, what kind of contact and with whom?
My contact and collaboration with various colleagues at the MPI has never ceased. For many years I was an associated member of the Department 'Integration and Conflict' and the LOST research group; and I am still a research partner of the Department 'Law & Anthropology' and also a member of the department's Consultative Committee since 2014. Together with Marie-Claire Foblets, Maria Sapignoli, and Mark Goodale, I am currently co-editing the Oxford Handbook of Law and Anthropology – a major undertaking which we, supported by Brian Donahoe, have worked on intensely together for several years.

6. What is your current research topic?
At the moment my research focuses on two areas in particular. First, together with Larissa Vetters (MPI), I am head of the subproject "Sentiments of Bureaucracies" of the Collaborative Research Centre "Affective Societies". In this project we look at the effects of new digital technologies on legal decisions about individuals' immigration status. Second, I continue to pursue long-term research on the topic of land reform in South Africa meant to redress colonial dispossessions. Given that this land reform has been criticised as being too slow and too expensive, the South African government has recently supported a constitutional change meant to allow expropriation of white farmers without compensation as the silver bullet to all reform-related problems. This process and its implications for (re)distributive justice, rule of law, and state efficiency are currently at the centre of my work – academic and political.

7. What are your plans for the future?
In the future I'd like to work more intensively on two new research topics: the normative order and juridification of the oceans; and the temporality of the political as seen through nostalgia for failed utopias.

8. What are the strengths of anthropology in comparison with other social sciences?
Anthropology uses thick descriptions of detailed case studies and comparative perspectives to propose answers to the great Kantian question: "What is the human being?" It is thus empirically based social and cultural philosophy. Long-term field research, to use Thomas Hylland Eriksen's terminology, allows anthropologists to build a bridge between widely diverse "small issues" of concrete actors and the "large issues" that underlie this. In addition to a reflexive methodology that considers the conditions that make socio-cultural knowledge possible, anthropology has the potential to not only allow us to understand and explain the world better, but also, as socially committed "public anthropology", to actively participate in shaping and changing it. This is why I consider anthropology the social science discipline that is theoretically and methodologically best-suited to addressing the most urgent and ultimate questions of our existence – I cannot imagine any more exciting field of work than that!

9. What advice would you give to students studying social anthropology today?
Many students are drawn to the field because they want to make the world a better place. After completing their studies, they are often able to eloquently express the countless problems with this desire. But unfortunately, along the way they often lose sight of the fact that the point is not to just interpret the world, but to change it (as Karl Marx aptly put it). Therefore, I encourage my students to preserve their desire for improvement – but to base it on better, empirically and theoretically informed and methodologically reflected anthropological knowledge.

10. What text – whether a book or article – have you read recently that particularly impressed you?
There are of course any number! Of particular relevance at present is perhaps the 2019 article "Collaborating with the Radical Right: Scholar-Informant Solidarity and the Case for an Immoral Anthropology" by Benjamin Teitelbaum, which was published in Current Anthropology 60(3). In this highly controversial text, Teitelbaum discusses his research among extreme right-wing groups and the dilemma of whether to give priority to the interests of our research partners, even if we do not agree with them, or instead adhere to moral anthropological practice. He argues that largely unconditional "scholar-informant solidarity" is indispensable for research, even if this means that ethnographers participate in ethically questionable activities. While I disagree with Teitelbaum on key points, the text is nonetheless valuable for addressing central questions that anthropologists must grapple with in our increasingly postliberal age.