Legal Approaches to Cultural Diversity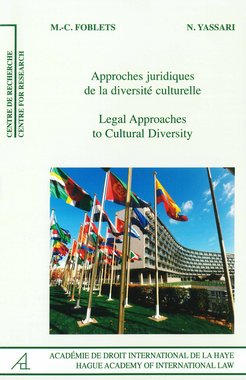 Author
Marie-Claire Foblets, Nadjma Yassari

Publisher
Leiden/Boston: Martinus Nijhoff Publishers

Year of publication
2013

ISBN
978-9-00425-015-4

OPAC

Abstract
The central theme of the volume is cultural diversity, a vast subject that is highly relevant today. The particular focus here is on the many ways in which this diversity is managed within the framework of State law. The twelve contributors to this book have a special interest in how cultural traditions and their various forms of expression are handled by the law. They were all participants in the 2009 Research Programme of the Centre for Studies and Research of the Hague Academy of International Law. The breadth of the subject is reflected in the wide spectrum of perspectives from which the topic has been explored. Starting in each case from the existing State and international legal frameworks, the contributors explore how the interactions between positive law and other normative orders can be placed at the service of a legal system that is as fair as possible within a plural context. Contributors were asked to choose from two alternative approaches: either they could look at cultural diversity issues in the field of private (international) law, a fairly traditional field that is especially relevant to the legal treatment of cultural diversity; or they could situate cultural diversity within the wider and more theoretical area of legal pluralism, whether on a local or regional level or at the international (United Nations) level.