Family, Kinship and State in Contemporary Europe. Vol III. Perspectives on theory and policy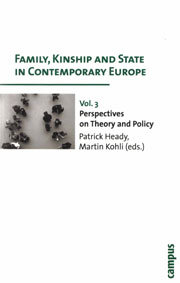 Author
Patrick Heady, Martin Kohli (eds.)

Publisher
Frankfurt am Main: Campus Verlag

Year of publication
2010

ISBN
978-3-593-38963-9

OPAC

Abstract
Kinship is at the heart of European society, sharing with the state responsibility for welfare and social reproduction. But the workings of kinship and their connection to state policies remain controversial. Received theories have had to be revised in the light of social and demographic change and accumulating evidence of long-standing cultural differences. With Family, Kinship and State in Contemporary Europe, the editors and their collaborators have gathered a three-volume array of historical, sociological, and ethnographic data that examine these issues and introduce readers to the types of kin relationships found around contemporary Europe. In this volume the authors use network data to measure the extent of mutual assistance between relatives and explore its connection to residence and marriage patterns, intergenerational relationships, gender roles and fertility. They go on to review the findings of the whole study – drawing critically on theories of altruism, reciprocity, cultural continuity and socio-economic change. The book closes with some recommendations for policy.