Milk and Peace, Drought and War. Somali culture, society and politics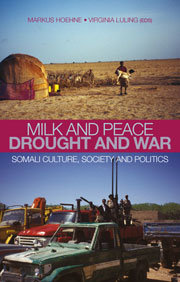 Author
Markus V. Hoehne, Virginia Luling (eds.)

Publisher
London: Hurst and Co. Publishers

Year of publication
2010

ISBN
978-1849040440

OPAC

Abstract
This volume offers a comprehensive overview of scholarship on Somalia and Somaliland, one that transcends the usual boundaries and presents readers with a timely, incisive and compelling introduction to Somali culture, history and politics. An introduction describes I.M. Lewis' career and discusses the legacy of over fifty years of his scholarship, assessing its impact on Somali society's view of itself and that of the wider academic and policy communities.