Eastern Christians in Anthropological Perspective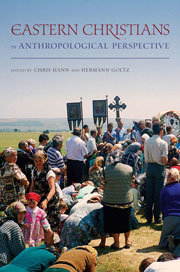 Author
Chris Hann, Hermann Goltz (eds.)

Publisher
Berkeley: University of California Press

Year of publication
2010

ISBN
9780520260566

OPAC

Abstract
Sociocultural anthropologists have taken increasing interest in the global communities established by Roman Catholic and Protestant churches, but the many streams of Eastern Christianity have so far been neglected. Eastern Christians in Anthropological Perspective completes the literature. The essays in this pioneering collection examine the primary distinguishing features of the Eastern traditions—iconography, hymnology, ritual, and pilgrimage—through meticulous ethnographic analysis. Particular attention is paid to the revitalization of Orthodox and Greek Catholic churches that were repressed under Marxist-Leninist regimes.