Uzbek Ethnicity between Loyalty and Conflict in Kazakhstan and Russia
The project deals with inter-ethic relationships and identity options among urban Uzbeks in Kazakhstan. In the last few years post-Soviet Kazakhstan has experienced rapid and profound political and social changes which forced the government to redefine national identity and reshape the relationships with ethnic minorities.
The processes of nation creation in Central Asia occur within multiple discursive frames such as juridical, political, economic and social. Within these frames non-Kazakh groups challenging the nation-state offer an alternative paradigm for identification, which emphasizes deterritorialized social and cultural identities. Uzbeks, who always lived in southern Kazakhstan and consider themselves original inhabitants of the region, are negotiating a transformation of status and belonging, from having an 'insider' status as an 'autochthonous population' to being considered part of a new Uzbek 'diaspora'. The question is how these changes impact the negotiation and representation of the Uzbek identity in South Kazakhstan. Do the rhythms of ethnic amity and enmity interact in urban space where residence, work, market, communication and consumption bring people into constant contact?

Three main areas can be identified as starting points in this project.
The first area considers the question: How flexible are ethnic boundaries and identity markers in economic and social interactions between majority/minority in urban Kazakhstan? How do Uzbeks as 'native diaspora' react and interact in every day life beyond official discourses and agencies regarding the growing tendency of nationalization and isolation form the homeland Uzbekistan?
The next question concerns the idea of homeland, production of spatial concepts of homeland and its symbolic landscape on the level of private and public spaces.
The third area considers my look at transethnic bindings like trans-Islam and trans-Turkic identity options and how they affect inter-ethnic relationships in South Kazakhstan and other localities. These points are of interest because they entail an integrative power for construction of a common regional Islamic or Turkic identity. The question is whether local Islam among Uzbeks and Kazakhs affects their partnership or not.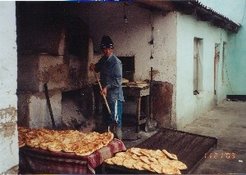 Starting in Kazakhstan the project will later be compared with the situation of Uzbek migrants in a major Russian city. The aim of comparison is to analyze the interplay of majority-minority relationships across borders and transnational ties in different national settings. The project will contrast Uzbek identity of a 'native diaspora' in Kazakhstan with an ethnic identity of new labour and trade diaspora in Russia. What are the similarities in production of new diaspora discourses in different contexts? Do Uzbeks in poliethnic contexts develop strategies of integration into majority identity? How is the notion of Uzbekchilik reproduced outside of the territory of the national homeland?