Memory and Genocide. On what remains and the possibility of representation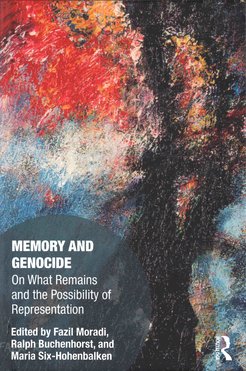 Authors
Fazil Moradi, Ralph Buchenhorst, Maria Six-Hohenbalken (eds.)

Publisher
London, New York: Routledge

Year of publication
2017

ISBN
978-1-4724-8201-3

OPAC

Abstract
This book focuses on the ethical, aesthetic, and scholarly dimensions of how genocide-related works of art, documentary films, poetry and performance, museums and monuments, music, dance, image, law, memory narratives, spiritual bonds, and ruins are translated and take place as translations of acts of genocide. It shows how genocide-related modes of representation are acts of translation which displace and produce memory and acts of remembrance of genocidal violence as inheritance of the past in a future present. Thus, the possibility of representation is examined in light of what remains in the aftermath where the past and the future are inseparable companions and we find the idea of the untranslatability in acts of genocide. By opening up both the past and lived experiences of genocidal violence as and through multiple acts of translation, this volume marks a heterogeneous turn towards the future, and one which will be of interest to all scholars and students of memory and genocide studies, transitional justice, sociology, psychology, and social anthropology.