The Largest Mangrove Forest in the World – Online Public Lecture and Musical Performance
On 3 June 2021 at 19:00 Jason Cons (University of Texas at Austin) will give a lecture about his anthropological field research in the Sundarbans of Bangladesh, the largest mangrove area in the world, and how it is being affected by global warming and human activity. But it is not just nature that is undergoing profound transformations: as Cons shows in his talk, the many interventions also threaten the societies living in this coastal region.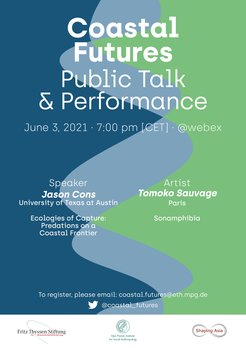 As an aesthetic evocation of such environments at the confluence of land and water, the event will also include a musical performance entitled "Sonamphibia" by Tomoko Sauvage. Combining musical and choreographic elements, Sauvage explores the acoustic properties of liquid by manipulating vibrating objects submersed in water and electronically amplifying their sound.

To register for the online event, please e-mail: coastal.futures@eth.mpg.de

Jason Cons is an Associate Professor of Anthropology at the University of Texas at Austin. He works on borders in South Asia, climate and agrarian change, and rural development. He has conducted extensive research in Bangladesh on a range of issues, including: climate security, disputed territory along the India-Bangladesh border, the impacts of shrimp aquaculture in coastal areas, and the politics of development. His current research is situated in the Sundarbans and the Southwest Delta region of Bangladesh. Addressing climate-change-related development, conservation, industrialization, piracy, and security, it explores the ways that imaginations of future climate change are shaping the delta and the India-Bangladesh border in the present.

Tomoko Sauvage is a Japanese musician and artist who is best known for her experimental work using a unique hybrid instrument that combines water, ceramic bowls, sub-aquatic amplification and electronics. Sauvage's research is grounded in live-performance practices embracing the unpredictable dynamics of materials while incorporating ritualistic yet playful gestures, improvisation with the environment, and the use of chance as a compositional method.