New Research Partnership at Jimma University in Ethiopia
Ameyu Godesso Roro, Assistant Professor at Jimma University (Ethiopia), is Head of the new Max Planck Partner Group at the Max Planck Institute for Social Anthropology (MPI). In his project, entitled "Ethiopian Capital Encroached on Regional Border: Housing Development and Protest against Land Dispossession in Oromiya", he will examine state housing policy in and around Addis Ababa – a topic that has repeatedly sparked political unrest in recent years. The five-year project will be conducted in close cooperation with Director Ursula Rao and her Department 'Anthropology of Politics and Governance'.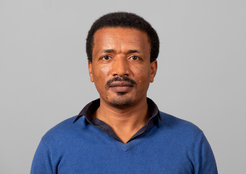 Since the early 2000s, the Federal Democratic Republic of Ethiopia has made enormous investments into housing construction and infrastructure to support the development of urban areas. Strengthening urban centres is considered the key to the economic development of the entire land. As a result of these measures, the urban space of Addis Ababa has been continually expanding. The government has compulsorily acquired large amounts of agricultural land in order to carry out its extensive building projects – with major consequences for the people living in the area surrounding the metropolis, who often lose their means of livelihood along with their land. The political processes that led to these developments and the political unrest that has accompanied them are the topic of the new research group headed by Ameyu Godesso Roro. He has longstanding connections with the MPI, where he spent time from 2012 to 2018, first as a doctoral candidate and later as a research fellow.
"I am excited about Ameyu's project for two reasons. Firstly, he is an accomplished academic with excellent training who has the potential to create a bridge between local scholarship and global academic debates. Secondly, Ameyu brings to the Department 'Anthropology of Politics and Governance' a relevant case study from anglophone Africa that ideally complements our work on cities in Asia and Europe", says Ursula Rao, Managing Director of the MPI. "As a partner, he will allow the MPI to establish strong links with a regional university in Africa, and thus broaden the comparative basis of our urban studies program."
Max Planck Partner Groups – Promoting young researchers in scientifically emerging countries
More than 70 Max Planck Partner Groups exist worldwide and enable countries to strengthen their research through international cooperation; at the same time, these projects also promote the careers of young researchers. They are based on the principle that, following a research residency at a Max Planck Institute, outstanding early career researchers (postdocs) return to their home country and carry out further research on a subject that is also of interest to their previous host Max Planck Institute.