Across the waves: strategies of belonging in Indian Ocean island societies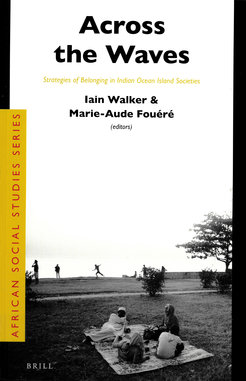 Authors
Iain Walker, Marie-Aude Fouéré (eds.)

Publisher
Leiden: Brill

Year of publication
2022

ISBN
978-90-04-51009-8

OPAC

Abstract
This collection offers insights into how the people of the Indian Ocean islands of Zanzibar, Madagascar, Mauritius and the Comoros negotiate their social and political belonging in these societies, created through waves of migration across the ocean.
All the islands of the western Indian Ocean are immigrant societies: Austronesian seafarers, African slaves, Arab traders, South Asian indentured labourers and European plantation owners have all settled, some voluntarily, others less so, on Madagascar and Zanzibar, in the Mascarenes and the Comoros. Successive arrivals often struggle to establish their places in these societies, negotiating their way in the face of antipathy, resistance, even violence, as different claims to belonging conflict. The contributions to this volume take a selection of case studies from across the region, and from different perspectives, contributing to a theorisation of the concept of belonging itself.