Ursula Rao elected to the Berlin-Brandenburg Academy of Sciences and Humanities
Ursula Rao, the Managing Director of the Max Planck Institute for Social Anthropology (MPI) has been elected a member of the Berlin-Brandenburg Academy of Sciences and Humanities (BBAW), receiving her certificate of appointment in June 2023. The BBAW is an association of outstanding scholars with a tradition of more than 300 years. Its mission includes the advancement of science, policy consulting, and the promotion of dialogue between academia and society. Scholars who have distinguished themselves through scientific achievements are eligible to be elected as members.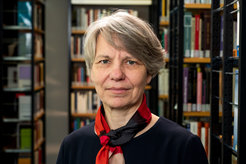 The BBAW's approximately 400 members participate in interdisciplinary working groups and initiatives that address key questions concerning the future of our society. Presenting its findings in research reports, memorandums and recommendations, and in public discussions, the Academy makes an active contribution to political and social deliberations. "Membership in the Berlin-Brandenburg Academy of Sciences and Humanities is associated with the call to actively contribute to the critical further development of society," says Ursula Rao. "This is because the academy negotiates topics that are vital for dealing with the diverse challenges of the future. Such a focus dovetails well with our research priorities at the MPI in Halle. I therefore really look forward to collaborating with colleagues in the Academy."
In December 2023, an article by Ursula Rao entitled "Aufklärung ist… das Streben nach Erfahrungswissen und der Mut zur unabhängigen Analyse" will appear in the BBAW's annual magazine. Here, she describes the introduction and implementation of a government-funded health insurance scheme in India against the background of the Kantian imperative to have the courage to use one's own reason. The text analyzes the complex processes of internal communication and reflection that enabled decision makers to actively deal with the program's weaknesses and correct problems.