Research Fields
REMEP - Retaliation, Mediation, Punishment

From 2014 to 2016, Dominik Kohlhagen was the academic coordinator of the International Max Planck Research School on Retaliation, Mediation and Punishment (IMPRS REMEP). The IMPRS REMEP is a research and teaching network between different Max Planck Institutes and University Faculties in the fields of sociology, social anthropology and jurisprudence. Research within REMEP addresses questions common to the disciplines involved as to how peace, social order and social control are negotiated, constructed, maintained and re-gained.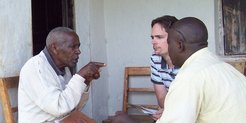 Dominik has done extensive field research in different African countries (Burundi, Cameroon, Côte d'Ivoire) and published widely on questions related to the negotiation of social order in plural legal settings.
Local-Level Conflict Dynamics in the African Great Lakes Region
The main focus of Dominik's latest publications is on dispute resolution in the East African country of Burundi, on the interaction between state and non-state law and on the rehabilitation of supposedly 'customary' institutions. His current research is on land conflicts and polititcal responses to land conflicts in the African Great Lakes region (Burundi, Rwanda, Eastern DRC).