Parenting After the Century of the Child. Travelling ideals, institutional negotiations and individual responses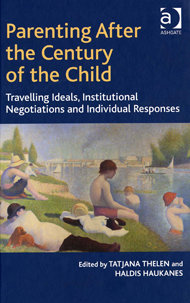 Author
Tatjana Thelen, Haldis Haukanes (eds.)

Publisher
Burlington: Ashgate

Year of publication
2010

ISBN
978-1-4094-0111-7

OPAC

Abstract
Bridging the gap between studies orientated around parenthood and those on the 'globalization' of childhood, Parenting After the Century of the Child provides a timely intervention to the scholarship. It explores in depth negotiations of travelling ideals on childhood, showing the power of institutional implementations that affect parenting practices. Drawing on the latest research conducted in Europe, North and South America, Africa, and South East Asia, this book examines ideas currently travelling across the globe within institutional settings, providing new insights into the dynamics and ambivalences involved in the simultaneous reframing of childhood and parenthood. This truly global volume will appeal to anthropologists and sociologists with interests in gender, childhood studies and the sociology of the family.