Diasporas and Peace. Patterns, Trends and Potential of Long-distance diaspora Involvement in Conflict Settings. Case Studies from the Horn of Africa
DIASPEACE (Diasporas and Peace. Patterns, Trends and Potential of Long-distance diaspora Involvement in Conflict Settings. Case Studies from the Horn of Africa) is a non-partisan, academic research project looking at the chances and challenges for involvement of diaspora groups currently residing in Europe in the countries of origin, in this case Eritrea, Ethiopia, and Somalia. The project seeks to expand knowledge on the role of diasporas and their contribution to peacebuilding 'at home'. DIASPEACE is funded by the 7th Framework Research Programme of the European Commission for three years (March 2008 to February 2011).
Thanks to their unique position, diaspora groups possess rich knowledge, strong relationships and in-depth understanding about peacebuilding in their countries of origin. In fact, many are already actively involved in such activities. Yet, it is rather difficult for European state actors – and even civil societies – to find ways of meaningfully engaging with these diasporas and identifying potential cooperation partners in their peacebuilding efforts.
Thus, DIASPEACE has three objectives:
to analyze diaspora engagement in their countries of origin through case studies both in Europe and in the Horn of Africa;
to facilitate interaction between diaspora and other peacebuilding actors (e.g. international agencies, governments, NGOs), and
to come up with recommendations for European actors on how to better engage diaspora in peacebuilding activities.
The research team of the DIASPEACE project consists of eight institutions in six European and two African countries:
1) University of Jyväskylä (JYU), Finland;
2) Bonn International Centre for Conversion (BICC), Germany;
3) Max Planck Institute for Social Anthropology (MPG), Germany;
4) Peace Research Institute of Oslo (PRIO), Norway;
5) African diaspora Policy Centre (ADPC), The Netherlands;
6) Centro Studi Politica Internazionale (CeSPI), Italy;
7) Forum for Social Studies (FSS), Ethiopia; and
8) Academy for Peace and Development (APD), Somaliland/north-western Somalia.
The project's regional focus is on the Horn of Africa and Western Europe plus Scandinavia. In total, about 15 researchers do field research within the DIASPEACE framework. It is a multidisciplinary project and involves social anthropologists, political scientists, sociologists, researchers coming from development studies, and practitioners who work and research for NGOs.
According to the DIASPEACE proposal the project 'seeks to generate policy-relevant, evidence-based knowledge on how diaspora play into dynamics of conflict and peace in their countries of origin.' The literature review (deliverable 1) further specified the research question: 'To what extent can activities carried out by diaspora groups in the name of conflict resolution and peace-building actually influence the structural problems underlying the conflict?'
The following six approaches have been identified as relevant for meeting the main research interest:
| | |
| --- | --- |
| Multiple-sites | Research Aim |
| European Countries | Comparison between 'receiving contexts' |
| European Countries | Transnational links within the diaspora |
| Europe - Horn of Africa | Transnational links between 'near' and 'wider' countries |
| Europe - Horn of Africa | Transnational links between 'wider' diaspora and countries of origin |
| Countries in the Horn of Africa | Comparison between 'sending contexts' |
| Countries in the Horn of Africa | Transnational links near diaspora and countries of origin |
Table 1: Mulit-sited / transnational research within DIASPEACE; source: Horst, Cindy 2008. Multisited Methods within the Diasporas for Peace Project. Unpublished DIASPEACE Discussion Paper, No. 1.
DIASPEACE research under Work Package (WP) 2 and Work Package (WP) 3 focuses both on transnational links and comparative aspects of diaspora engagement. With regard to transnational links, especially the links within the diaspora in Europe and between the wider diaspora and the countries of origin have been studied. Regarding the study of comparative aspects, WP2 research was limited to the receiving contexts, while WP3 research looked especially into the different contexts of the sending countries.
A number of additional questions have been formulated, in order to sharpen the focus of the research:
What types of diaspora organisations can be found in Europe? What are their most striking features in terms of size, modes of organisation, purposes, and activities?
By which means do these organisations seek to contribute to peace and development in their countries of origin?
Which factors shape, enable and delimit their engagement, both 'here' and 'there'?
Who are the main persons/institutions involved in the diaspora engagement?
What are the motivations and standpoints of the actors involved?
What are the perceptions and 'feelings' of the local actors – officials as well as the general public – about the diaspora input in the countries of origin?
What are the agendas of European governments/institutions concerning diasporas?
What are the sensitive issues involved in the various diaspora engagements – in Europe as well as in the Horn of Africa?
To what extent and in what ways has diaspora engagement changed over time?
These questions aim at differentiating the institutions and individual actors involved in diasporic engagement in Europe and in the Horn of Africa. They also point to various interests involved with the engagement, including economic and political interests of institutions and actors beyond the immediate peacebuilding efforts. Certainly also status issues and status paradoxes play a role regarding the motivations for diasporic engagement (e.g., a person from the Horn who is just a 'refugee' or 'foreigner' in Europe becomes a community leader, a 'professor', or an otherwise highly regarded personality in the country of origin by coming back and investing/engaging 'at home'). Some of the questions make us sensitive toward power differences between the European and the African context, but also within the regions and countries. Cultural differences in the various contexts have to be considered. Finally, the question about changes over time highlights the need to historicise diasporic and transnational relationships and ways of engagement. This kind of 'long term perspective' may be relevant in order to assess the impact of diaspora engagement over time.
Within this larger project, Markus Virgil Hoehne worked as coordinator for WP3 (Research in the Horn of Africa). He also conducted his own research project on The role of the diaspora in education and peacebuilding in Somaliland. Within this project, Hoehne looked at two newly founded universities in Somaliland, established through and with the help of diaspora actors in Finland and the UK. The first one, International Horn University (IHU), is located in the capital city of Hargeysa. The second, Nugaal University, is in Lasanod, a town in the east, in the contested borderlands between Somaliland and Puntland. The research concentrated on the history of the institutions and the founders, and looked at how both universities are currently (in 2008/2009) involved in peace-related activities in their respective locations. It turned out that some activities of the universities are directly aimed at conflict mediation and peace building, while others have only an indirect impact, which, however, has a great potential for long-term, social and political transformation.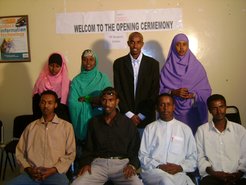 The IHU is a clearly Islamic institution. It has been established by Somalis coming from the Finish diaspora in 2006. Through various outreach activities the university is involved in the local society and secures its 'reformist' influence. Through the Centre for Research and Community Development, a research centre that is part of the university, the IHU is involved in the mediation of an ongoing conflict in western Somaliland. Moreover, the university held seminars and meetings in Hargeysa at which representatives of the global civil society (NGOs) and local religious leaders came together and exchanged their views on conflicting issues such as women's rights and family development in Somaliland. This can be understood as an exercise in inter-cultural dialogue and tolerance, which has implications for peace and stability in Somaliland, a country where many (mostly Western) aid organisations operate. Several lectures on the topic of minority groups and social marginalisation in Somaliland were included in the sociology course offered at the IHU. This again builds tolerance among students, and may contribute to bridging social divisions in the country. Finally, the IHU organised a public cultural event in spring 2009, which featured 'camel poetry' and other aspects of traditional Somali culture. This event arguable reconciled the strict Islamic moral codex in force at IHU with the non-Islamic Somali traditions. In this way, the university as elite institution with a visible religious touch showed its openness to the wider society, which is a precondition for mutual cultural 'fertilization' and dialogue.
Nugaal University is a remarkable institution since it was established in a peripheral and in fact politically unstable area of Somaliland. Its mere existence testifies to the will of the local population in cooperation with the diaspora to build a future for the young generation against the odds of economic problems and political conflict between Somaliland and Puntland, which have a strong impact on and split the local population. Nugaal University offers the usual courses in information technology and business administration. Additionally, the university leadership is eager to strengthen the institutional ties between the university and the government in Hargeysa, and also with international organisations involved with education and development. It can be argued that Nugaal University helps to stabilise an unstable region, and contributes to moving the margins a bit closer to the centre in Somaliland. This is a contribution to peacebulding in a generally volatile political environment.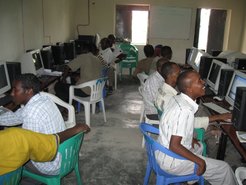 In both cases, the relation between education and peacebuilding is often indirect, but nevertheless vital. It concerns first, the provision of options for a peaceful future. Education is a means to get the young people who have been socialised with violence during civil war 'out of the streets' and into an institution that ideally paves the way to a job and sufficient income (this aspect of course also depends on the general economic environment and the capacity of the local market); second, inside and outside of the university, lectures and seminars contribute to the teaching of tolerance and civic and religious values. In this way social and other tensions in Somaliland and between western and local actors can be minimised. Finally, universities in marginal places and conflict zones signal some degree of normalcy that gives hope to the locals and encourages them to work for the further peaceful development of their home region.
The research was based on open and semi-structured interviews with students, heads, teachers and other staff of the universities, members of the administration at the national and the local level, civil society agents, poets, and ordinary people who were not directly involved in education at the time. Also several group interviews were held with university students. Additionally several lectures and cultural events organized by the universities were attended.
Comparison between Hoehne's individual project and the other projects within the larger DIASPEACE-project was envisioned. This resulted in a number of joint publications together with Dereje Feyissa, Mahdi Abdille and Clara Schmitz-Pranghe.