Industrie und Ungleichheit in Eurasien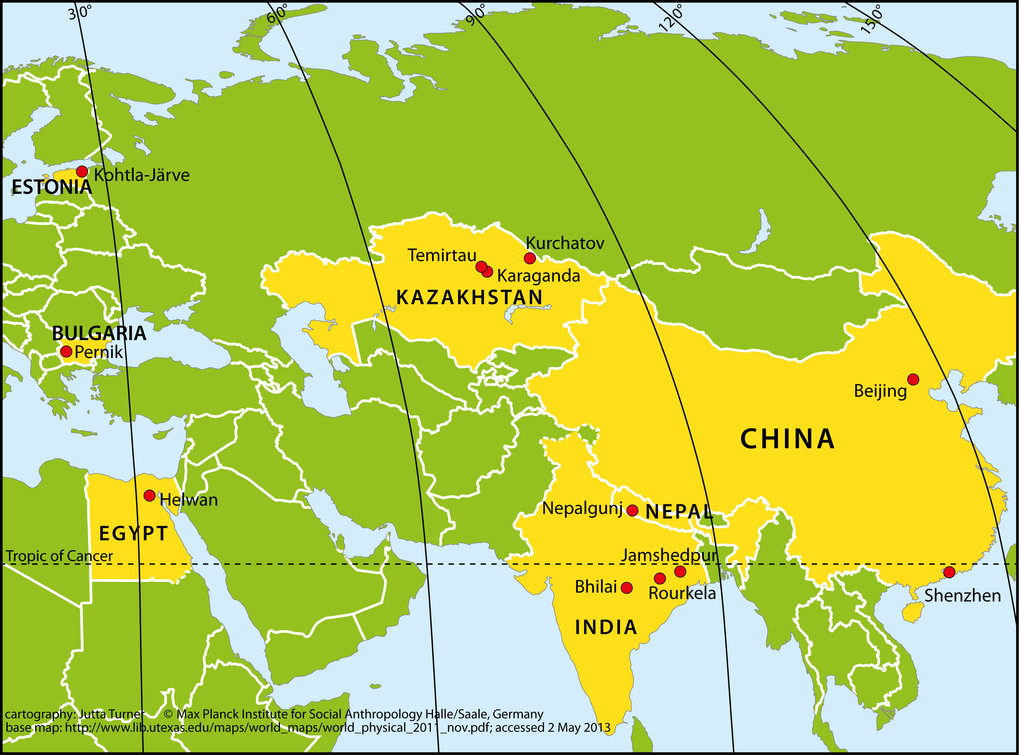 Bild vergrößern
Fieldsites of the members of the Research Group.
Fieldsites of the members of the Research Group.
The Group
The Institute's post-doctoral project group on Industry and Inequality in Eurasia was launched in September 2012 to investigate the impact and experience of industrial life in different regions outside western Europe. It is led by Catherine Alexander (University of Durham), Chris Hann (MPI for Social Anthropology) and Jonathan Parry (London School of Economics and Political Science). The group comprises six postdoctoral research fellows and two research associates, who conduct ethnographic fieldwork in industrial workplaces and neighbourhoods.


Point of Departure
The aim of the group is to contribute to the discipline of economic anthropology through fieldwork-based investigations of industrial work and the changing character of the labour force. By relativizing the way in which the early history of industrialization in Europe has inflected understandings of class, social differentiation and political struggle, new perspectives will be developed on resilience and transformation under neoliberal capitalism. The group looks at power, hierarchy and economy in a broad range of different industrial contexts in Eurasia with a view to qualifying and re-formulating western social science understandings of class and status.
The group pays particular attention to the intersections between economic inequality and hierarchies of gender, ethnicity and age, and how the political struggles of industrial workers are constituted.
The project concentrates on large enterprises in heavy-industrial sectors such as steel and mining, where researchers investigate neoliberal shifts in state regulation, property relations and citizenship. A particular focus of attention is the distinction between the formal / informal sector, and secure and precarious employment.


Core Research Projects
Changing Life and Work of the Post-Soviet Working Class of Kazakhstan and Estonia (Eeva Kesküla)
Ethnicity, Class and Industrial Labour in Post-Conflict Nepal (Michael Hoffmann)
Scrap Value: power, exchange and enterprise in the Indian metal trade (Andrew Sanchez)
Work, Class, and Community in Contemporary Kazakhstan: changing regimes of industrial labour in a former Soviet steel town (Tommaso Trevisani)
Work, Property and Class in Revolutionary Egypt (Dina Makram-Ebeid)
Work, Spatial Relationships and Privatization in a Bulgarian Steel Town (Dimitra Kofti)


Associated Research Projects
Migration, Work and Life Course: migrant workers in post-Mao China (I-Chieh Fang)
Ethniciy, Class and the State in an Eastern Indian Steel Town (Christian Strümpell)